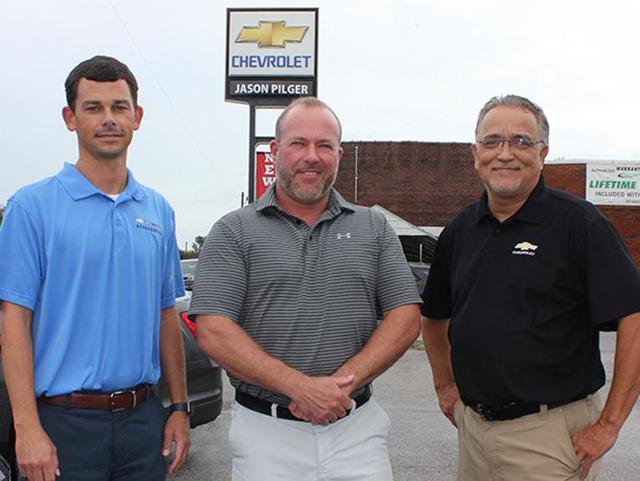 See Why More Drivers Work with Us Here at Jason Pilger Chevrolet
One of the most important parts about shopping for an outstanding new or used car, truck, or SUV is making sure you are given the best chance possible to work with a dealership you can trust. Luckily, when you are a driver in the Ensley, FL and Saraland, FL area, you are going to love being able to work with us here at Jason Pilger Chevrolet in Atmore, AL and we are ready to help! Work with us today and get ready to see what we can do to make you every visit a more enjoyable time.
Take the Time to Learn About Our New and Used Inventories
Here at our dealership we are ready to offer drivers the incredible chance to shop for a great new Chevrolet car, truck, or SUV! We are incredibly proud to offer drivers from all over the area the chance to get something that is loaded with a ton of modern features and technology, as well as being ready to give you an outstanding amount of performance. There are few new models that are as well-rounded and special as a new Chevrolet and we are going to make sure you can see first-hand why a new Chevrolet is the perfect choice for you!
On top of the different new models we offer, you are going to love that fact that we here at our dealership we are ready to also help you shop for something that is ready to keep your budget in the best shape possible. Thanks to our huge selection of used models, more drivers who visit are going to be able to choose a great car, truck, or SUV that can fit your budget. We are ready to help drivers from all over the area find a stunning used model that will be perfect for any budget.
Shopping and Owning Your Car is Bound to Be More Enjoyable
When you decide to shop with us, you are of course going to love all of the different models we offer, but more importantly, when you dig into what our dealership is ready to offer when it comes to making shopping for a car, truck, or SUV much easier. Thanks to our on-site finance center, getting yourself the premier auto loan or lease is going to be much easier as our staff members will walk you through the entire process and make sure you can easily get what you want and need.
Additionally, our dealership is also the best possible to place to ensure you are able to get the best ownership experience possible. Our staff members in both the service center and parts center are ready to help keep your Chevrolet in great shape. We want to ensure that you can enjoy your purchase for many years to come and will ensure that no matter what you want or need completed, we are ready to help! Our highly trained and knowledgeable staff members are ready to help and will be here to bring you the guidance you have been searching for.
Jason Pilger Chevrolet is Here to Help
Make the drive over to Jason Pilger Chevrolet today and we are going to be ready to not only offer you all of the best new and used models possible, but can ensure you are able to get the help and guidance easily and confidently you really need. We are ready to help you and will make sure your shopping experience is truly special. See you soon!
Amenities:
Free wifi
coffee bar with snacks
indoor waiting lounge (including TV and salt water fish tank)

complimentary shuttle
outdoor waiting lounge
Hours
Monday

9:00 am - 6:00 pm

Tuesday

9:00 am - 6:00 pm

Wednesday

9:00 am - 6:00 pm

Thursday

9:00 am - 6:00 pm

Friday

9:00 am - 6:00 pm

Saturday

9:00 am - 5:00 pm

Sunday

Closed
Make an Inquiry
* Indicates a required field
Pilger Chevrolet in town
By SHERRY DIGMON
08/22/2018
News Staff Writer
If Jason Pilger had to describe his life right now, he might use the word "chaotic."
Pilger took over ownership of Chuck Stevens Chevrolet in Atmore last Wednesday, August 15.
Atmore is a good fit for Pilger. He lives in Mobile and has a hunting camp in Camden. He said Atmore is just about a halfway point for him.
The weeks leading up to "signing on the dotted line" have been busy indeed as Pilger has handled the transition while also taking care of his Hyundai dealership in Gautier, Miss.
Last week, new signage went up as the deal was finalized and Jason Pilger Chevrolet became part of the Atmore business community.
Pilger's business partner, John Moreno of Houston, was in Atmore for the closing. Moreno, who is president of a heavy industrial construction company, plans to move to Alabama.
The same service department and most of the same staff stayed with the dealership.
"Ninety-five percent of the former employees decided to stay," Pilger said. "We didn't terminate anyone."
The former Staff Chevrolet building is most recognizable by the glass windows and rounded corners. An architect is scheduled to come next month to determine how Pilger can keep the look of a 1930s building, yet modernize it to make it more comfortable for customers and efficient for employees.
Ben Jackson is the new general manager at the dealership. He and Pilger have worked together for years. Raymond Rolin remains as service manager.
Pilger was born in Chicago, and his family moved to Wisconsin when he was one. He moved to the South at age 20 working in the casino business. Then he raced watercraft professionally. His dad was CEO of the company and fired him.
"He said to me, 'I'm firing you because I love you,'" Pilger said. "That's how I got into the car business. I had a buddy who owned a dealership, and he told him me I could sell cars and race too."
Pilger liked the car business immediately.
"I make a good living and meet people and talk to them," he said.
He plans to divide his time between Atmore and Gautier and the hunting camp, that is when he's not coaching tee-ball, soccer, and Pee Wee football in Mobile.
Jackson and Pilger are both impressed with the warm welcome they've received here.
"I love Atmore. Everyone has been so welcoming," Pilger said. "The changeover has been very hectic. When things calm down, we can't wait to get involved in the community …
"We as employees and customers are proud to come to Atmore. We plan on staying as long as Atmore will have us."
News photo by Sherry Digmon